The perfect recipe:
Healthy foods
and good habits.
Hi there! I am DIANA PORTABELLA and I want to help you find the balance between your well-being and the beauty of feeling at peace with yourself.
And for that, I want us to cook together the perfect recipe for a beautiful, full, healthy, rich, healthy, energetic, and happy life.
Sounds delicious, right? ... Stay with me and I'll tell you how to find your well-being.
Reach your healthy weight and regain balance in your life
Are you at that point where you feel like everything is one continuous battle? That the years go by, and you haven't even noticed?
It´s ok now, take a breath. It is time now to be aware and find the balance to feel back the freedom you had before, feel more feminine, gain vitality, have the time to pamper yourself inside out. Without judgments nor criticism.
It is the moment to enjoy that vital balance that will lead you to a new way of living.
I want us to draw up a plan together to prepare our recipe without additives and thus achieve that desired well-being that you have been yearning for years.
We are going to work on a real, healthy, simple, and respectful proposal with you and your environment.
Are you ready for the change?
It is time to regain a healthy lifestyle
through a change in your diet.
Do you see yourself in any of these situations?
You have tried all kinds of diets without success
You have become discouraged with the yoyo effect and you no longer believe that it is possible to lose those extra pounds, you carry for a long time already
You start to take care of yourself but the daily stress makes you quit after a few days
You have no willpower. You love to eat. You binge and then feel awful. Snacks, cravings, and crazy weekends are part of your eating routine
If the answer is YES...
Don't worry… Believe me, your desire to feel better and look good is stronger than you think. You are strong enough to begin your real transformation.
You only need to work on your routine hand in hand with a person who understands you and helps you to be motivated, involved and committed.
This time, yes, exactly, YOU are going to achieve your goal: Regain your well-being, energy and ideal weight. Just like I did back in the day.
And I want to help you achieve it with my WELLNESS AND FOOD PLANS.
How are we going to manage to take care of ourselves inside out?
1. I'm going to help you establish a more positive relationship with food and your image.
2. I will give you guidelines and tools to have a healthy diet and positive habits.
3. We will set some healthy and simple routines that will spice up your days.
4. We will take care of our skin and body consciously and respectfully.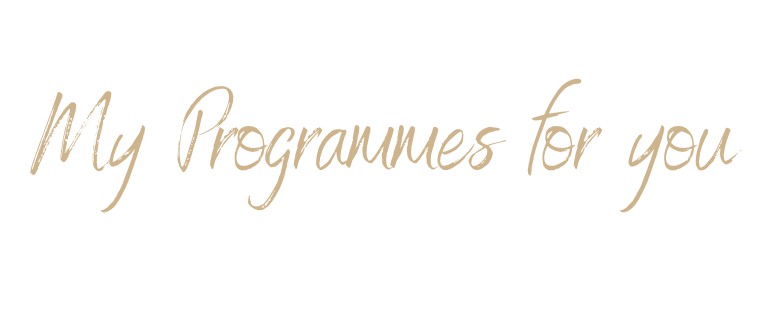 This programme is perfect to learn to eat healthily while you start creating positive habits every day. This is the sum of two essential ingredients for a healthy routine on our way to achieving our weight and energy goals.
During this programme I will accompany and guide you to reactivate your metabolism by practicing intermittent fasting together with dietary guidelines.
IDEAL WEIGHT + GOOD HABITS
With this programme you will be losing and then maintaining a healthy weight. There are plenty of tools, tips, and guidance on how, what, when and how much to eat.
A wonderful programme to take care of your skin with RINGANA fresh natural cosmetics and food supplements. All made from plant extracts, delicate oils and free from whatever toxins or synthetic compounds. Feel pampered by the perfect combination of vegan skincare products and supplements loaded with active ingredients.
We are going to focus on self-care, prioritizing stress relief, healthy eating, and positive habits.
What are you going to achieve with my programmes?
Recover your energy to feel 100% connected to yourself and your life
Lose weight
Feel strong and vital
Guidelines and tools to maintain results over time
A fresher and brighter image
A smooth and bright cared skin
Healthy eating
Positive habits and increased awareness of your body
Confidence to continue and not abandon the programme
Visible results
Well-being inside out
Happy clients
My experience with Diana has been really fantastic. At first it seemed impossible to achieve everything I set out to do, but I quickly noticed how my physical condition and energy improved. That's when the extra weight began to disappear as well as the feeling of heaviness and swelling. The fasts have been very revealing, because I thought I was not going to be able to and in the end they turned out to be a gift. Now I know that fasting is not just about not eating. I continue to practice everything I learned in the program and stay where I want to be. Undoubtedly a success to find Diana. Thanks!

I put myself in Diana´s hands to lose a few kilos and, above all, change my diet. After a few weeks, with a personalized follow-up from Diana, I have achieved both goals without making a great effort, thanks to the involvement, conviction, and empathy that Diana shared with me from day one. I recommend her services for those who want to feel better: with more energy and strength. She is a trained professional with significant professional background.

"I am very happy with the skincare routine that Diana recommended to me. The truth is, I have always been a disaster with creams and now in 3 simple steps I get clean, soft, and fresh skin ... I am delighted! In addition to being natural and environmentally friendly cosmetics. "

"For a long time I started diets and I got tired of them because I barely lost weight despite the great effort it was for me, which also influenced my mood. Today, thanks to the guidelines that I worked with Diana, I began my transformation with a balanced diet, sports and the Dea product from the Ringana brand. In two weeks I already began to see the results and that encouraged me to continue. Recommended 100%. "

My experience with Diana has been incredible! I started with the Intermittent Fasting Programme not because I wanted to lose weight, but rather to try a new lifestyle. But of course, one of the benefits was losing 3.5 kg in 4 weeks. And I didn't starve at all because I ate enough to feel good and even had the energy to keep training. I slept super well for 8 hours and woke up with motivation. So I loved it and decided to continue with the basic guidelines for later. It is worth trying and making the switch.

Like almost all women, I am concerned about and like to stay in good physical shape. Diana has been a bridge for me to achieve this. She is a determined and competent professional who helps you to keep up discipline with your diet and gives you the willpower you need to continue. She finally helped me achieve my goal: lose weight and feel better.

I made myself a present and went for the programme "Eat Healthy, Live Better", and that was a success. It has been a great experience both physically and mentally. A great cleansing of negative habits that were with me all my life and that were preventing me from achieving my health goals. I think I have changed a lot and that I still have a lot to move forward, but everything will work out. I'm already on the right track. Diana is a person who transmits confidence and a lot of energy, her advice and "tips" have helped me a lot and guided me at all times. I recommend her 100x100 and her healthy programme too. Thank you for your support and motivation!

I highly recommend Diana with her diet change and weight loss programme. I have personally tried it, and it is really fantastic. I managed to lose two kilos in a week, and that although my metabolism is slow. With Diana's advice and Ringana's D-eat I was able to do it! Diana is very professional, gives you very personalized support, and also she makes you see in a very nice way how important a conscious diet is.
Do you want to create healthy and long-lasting eating routines, improve your well-being and regain your energy?
Are you ready to take the leap? Then send me a message and tell me, what is your goal. Let´s start your healthy well-being plan right now.